Join Prinz Acupuncture and Dynamic Body Pilates for the June edition of Wellness + Wine 3rd Fridays, hosted by Dynamic Body Pilates.
This fun and interactive night is the ideal way to wind down your week. I will be I leading a session where you'll have the opportunity to see and/or experience multiple elements of traditional Chinese medicine. If you've ever wondered how acupuncture and Chinese medicine can help with...
-stress reduction
-weight loss
-headaches
-overall improved health and body function
...then this event is for you!
Come for the class, stay for the wine or just come for the wine. Advanced registration is encouraged. Space is limited. Tickets can be purchased at the door for $30. 
Dynamic Body Pilates is NYC's top rated rehabilitative pilates studio that sets the gold standard in helping people of all ages regain mobility, fitness, and bodily ease. Their beautiful space is conveniently located right in Union Square.
Tickets are available here: https://www.eventbrite.com/e/pressure-points-needles-cupsoh-my-tickets-34955184899
*Please Note* If you are just planning on coming for the wine portion of this event, you do not need to register in advance.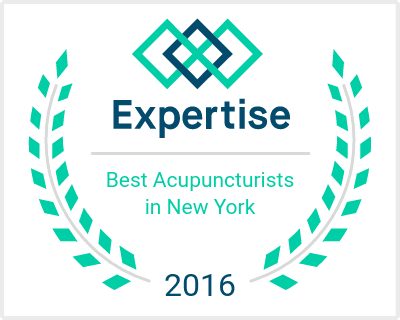 I'm thrilled to announce that Prinz Acupuncture was named one of the top twenty best acupuncturists in all of New York City for 2016! I rose to the top in a pool of 286 practicioners who were analyzed and scored across criteria in six categories including expertise, reputation, credibility, professionalism, availability and engagement. Check out the full list and scoring criteria here.
Expertise.com is an independent website whose goal is to connect people with the best local experts in the country's leading cities. To do so, the Expertise.com team carefully evaluates hundreds of professionals to craft a hand-picked list of the best in each city.
I credit this awesome accolade to truly loving what I do-- a day doesn't go by that I don't feel grateful for the ability to help people live healthier, pain-free, more balanced lives. I also have years of experience effectively and compassionately treating people of all ages and backgrounds, with a huge range of health conditions, from simple sports injuries and migraines, to the more complex, like Bell's Palsy and infertility. Since my career started, I've treated thousands of patients, from professional athletes and dancers, to professionals and mom's-to-be, to impoverished children and adults living high in the Himalayan mountains (with the Humla Fund).
When you are passionate about what you do and why you do it, great things happen! My patients are the biggest piece of this equation, and I am grateful to all of you for trusting me with your health & wellness. 
As an acupuncturist specializing in musculoskeletal pain and sports injuries, I have experience, tools, and tricks up my sleeve for enabling healing and getting results. One of those tools is called Electroacupuncture. While it may sound scary or strange, electroacupuncture is painless and incredibly effective. Read on to learn what it is, how it works, and how it can help you heal faster. This is especially helpful info for those of you currently training for the NYC Marathon or the Ironman Triathlon.
To understand it better, let's take a look at my success treating my patient David, who severely sprained his ankle four weeks ago while working out. David, one of the city's top massage therapists and owner of Bodyworks DW (location of my office and community acupuncture clinic every Thursday), knew to come in for a session immediately after his injury—and the combination of his quick thinking, self-care and my well-placed needles helped to decrease pain and swelling, accelerate healing, and increase mobility right off the bat. I highly suggest checking out his advice on how to self-care and recover faster for a sprained ankle, without using the obsolete RICE method, here. 
What is Electroacupuncture?
Think of Electroacupuncture as traditional acupuncture with a stimulating boost, or an extra "oommpf". During a treatment, acupuncture needles first are placed in acupuncture points on the body, just like regular acupuncture. Then a micro electrical current is added to a pair of specifically selected needles by attaching small clips (imagine miniature battery jumper cables). The clips connect these needles to a small battery-operated eStim machine, and electrical pulses are generated between the two points. In David's case, I utilized paired points to target areas of inflammation, as well as lower leg muscles that are overworking and sore.
It is an increasingly popular form of treatment for athletes and in general, and is used by practitioners of traditional Chinese medicine, including myself, for a wide array of conditions including pain and injury, neurological disorders, nausea, and even skin disorders.
How it can help treat an injury?
The added electrical current to makes the needle stimulation stronger and steadier. In cases of sports injury, I find time and time again that it helps to noticeably reduce swelling, decrease pain intensity, increase blood flow, and speed healing— as in David's case. After our third session, we could barely see the swelling in his ankle.
Studies underscore its efficacy. A 2007 study showed that electroacupuncture had better therapeutic effects than medication, both in the short and long term, in patients with acute lumbar strain. Another compared patients with hip osteoarthritis: some had electroacupuncture, others took prescription pain reliever. There was significantly more improvement in joint pain, function and range of motion among electroacupuncture recipients than among medication recipients.
What does electroacupuncture feel like?
Most patients describe it as mild tingling or tapping. If they perceive any numbness, thumping or discomfort, I just dial the intensity back.
Are there any risks involved?
Electroacupuncture should not be used on patients who have a history of seizures, epilepsy, heart disease or strokes, or on patients with pacemakers.
How do I get it?
Contact me or book online to set up a session. I will evaluate your condition and use electroacupuncture, if appropriate. The number of sessions required depends on the condition being treated, but I generally recommend a course of four treatments to begin. Acupuncture works cumulatively, so you should experience more of an improvement with each session.
Based on years of experience treating both acute and chronic sports injuries and pain, I can say that well-performed acupuncture can make all the difference between a healthy recovery and a long, dragged out road of healing. Using electroacupuncture can be a huge addition to it's already powerful healing powers .
Prinz Acupuncture recently expanded to a bigger, beautiful, light-filled studio space that's designed to foster healing and relaxation. Our growth means fresh perks for patients, including more hours & availability (Saturdays and Sundays); large & airy treatment rooms and waiting area; complimentary classes on meditation, stretching and acupuncture; and community acupuncture 'happy hour' every Thursday.

The space, located at 160 Broadway in the Financial District, was created by Bodyworks DW, featuring a team of exceptional bodyworkers. I'm honored that I was selected as the sole acupuncturist to join the studio. This is a huge step forward and I'm so excited to welcome you into this gorgeous space for rest, restoration and health.



How many times this week have you said, "I'm so stressed"? Maybe it was just once, or perhaps too many times to count. As New Yorkers, we're constantly "on", running from one place to the next, juggling our work and social lives, and dealing with sensory overload (subway performers, anyone?!).
Need to take your stress down a notch? Here's an acupressure point you can use at home, for immediate, natural relief.
Acupressure Point To Calm The Mind: Governing Vessel 24

How to find it: Place your pointer finger in the middle of your forehead and slide it about a half-inch behind the hairline. You're now on the point.
Press the point with firm pressure for 1-2 minutes, taking deep breaths into your abdomen. Imagine your tension melting away.
This point is used for calming the mind and reducing stress. It has a close relationship to the brain and the heart, and when it is stimulated, it produces a profound sense of calmness.
If your stress is accompanied by frontal headaches and eye pain, which are all too common in people who stare at tiny iPhone screens and work at computers all day, it's an especially good point to know. I use this point on myself after a long day, or for eye strain from my Instagram habit.
My challenge to you: use this acupressure point at least once a day to calm your mind and reduce stress. Email me with your results and feedback. I'd love to hear about your experience.
As an acupuncturist, one of my biggest jobs is to educate people about this effective and safe form of medicine. Most people don't understand how it works and what it can do for them (or are simply afraid of the idea of needles!), so they shy away from treatment and miss out on acupuncture's amazing benefits.
As you enter the New Year and embrace ways to improve your health, get to know acupuncture a little better! Read on for super interesting facts about this medicine so you're in the know (not only that, you'll have cool fodder for small talk for your next networking event or cocktail party!).
1. Acupuncture works by stimulating specific points on or near the surface of the skin, called acupuncture points.
Acupuncture points have high concentrations of nerve endings, mast cells, lymphatics and capillaries, all capable of triggering biochemical and physiological changes in the body, from the subtle to the dramatic. When a needle is inserted into a point, it sets off a complex system of interactions between the brain, hormones and glands. This powerhouse response is responsible for regulating a number of critical bodily processes.
Notably, acupuncture triggers the release of neurotransmitters and endorphins, the body's natural pain-killing hormones, thought to be 200+ times more potent than morphine! Acupuncture is also used to release substances that relax the body and regulate serotonin, which affects emotions. Other amazing physiological effects include increased circulation, decreased inflammation, easing of muscle spasms and increased T-cell count, which supports the immune system.
2. Qi plays a central role in acupuncture.
"Qi" ("chee") is a Chinese word that roughly translates to "energy." The concept is used to describe many different things, but in modern and traditional Chinese medicine, qi is used mainly as a metaphor for metabolic function. For example, "heart qi" would refer to functions of the cardiovascular system, and "ancestral qi" refers to genetics. We practitioners use acupuncture points to balance and move qi, in order to alleviate symptoms.
3. Acupuncturists undergo extensive, rigorous training that incorporates both Eastern and Western medicine.
Just like a doctor or a lawyer, acupuncturists are required to attend graduate school and pass rigorous boards exams. I completed a 3-year, full-time graduate program that required 4,050 hours of formal education, including hands-on clinic work. The program encompasses all aspects of Western medicine and Traditional Chinese Medicine, from physiology to neurology, point location to herbal medicine, and clean needle technique and medical ethics. It was very challenging -- even for me, a self-admitted book worm -- and required passion and dedication. Keep in mind that the United States (and NY) has particularly rigorous standards. Your acupuncturist studied and practiced their butt off to provide effective, safe, compassionate care.

I earned my Master's Degree at the Tri-State College of Acupuncture, one of the oldest and most respected acupuncture schools in the U.S., and then completed advanced training at the Beijing University of Chinese Medicine.
4. Almost everyone can benefit from acupuncture.
Almost anyone is a candidate for acupuncture. If you have an ailment, acupuncture can help relieve it. If you feel well, acupuncture can help you maintain wellness, boost immunity and manage stress. While many people seek acupuncture as a treatment for skeletal or muscular pain, my patients are often pleased by immediate, unexpected results, like reduced anxiety, better digestion and better sleep.
5. Acupuncture shouldn't hurt.
Acupuncture shouldn't hurt. The sterile, single-use needles are hair-thin, and I use very thin gauge Japanese needles in my practice. Although it's different for everyone, a lot of my first-time patients don't even feel them. Because the points activate the nervous and circulatory systems, you may feel different sensations coming from deep within your body during a treatment, not from the paper-thin needle on the surface of your skin.
6. How do I get started?
It's simple, call or go online to book a session with me! Whether you need a tune-up to fight stress and strengthen your bodies defenses, or need to release overworked and stiff muscles, I can help. Still have questions? See what my patients have to say.
The transition into Fall is in full swing, and if you're starting to feel the impact of shorter days and cooler weather, you're not alone. The good news is that you can keep your body & mind healthy, strong, and in balance by living in harmony with the season.
Traditional Chinese Medicine (TCM) views the environment as an extension of the body, and Fall signifies the shift from the more active seasons to the more passive. This means it's time for us to slow down, refine, let go of summer excesses, and focus on what's necessary for the cold months ahead.
In TCM, each season corresponds to a natural element and organ, and Fall corresponds to the element Metal and the organs of the Lungs & Large Intestine. As such, we can use them as a guide for our health & lifestyle choices throughout the season.
Metal: Strong, Focused, Discerning
Fall is the time to embrace the qualities of Metal: strong, definitive, focused, and discerning. It is time for us to gain clarity about what really matters, and let go of less important things that are slowing us down, whether it's a habit, relationship, or thought.
People who have a healthy balance of Metal are able to hold on to the important things, grieve losses, and move on when it's time to let go.
People with a Metal imbalance can be seen as either anal-retentive and organized to a fault, or unfocused and disorganized.
Lungs & Large Intestine: Filtering, Letting Go
The organs associated with Metal, the Lungs and Large Intestine, have to step up to the plate at this time of year. In TCM medicine:
The Lungs capture oxygen and release carbon dioxide, while also filtering out viruses and bacteria. The respiratory system is the front line of our immunity.
The Large Intestine absorbs water and releases waste and toxins.
Because of the organs' association with filtering and moisture, Metal imbalances can manifest in the body as respiratory, skin and digestive issues. These can include allergies, constipation, loose stool and dry skin.
Balancing Metal Through Fall Foods
Food is one of the ways in which we can optimize our health this season and prevent common Fall disorders like respiratory issues, dry skin, colds and flu.
Here are four simple Fall dietary tips:
Eat seasonally: Seasonal foods like sweet potatoes, potatoes, beets, turnips, broccoli, spinach, squash, carrots, pears, apples, persimmons, rice and oats are a great place to start. Rich in vitamin A, they are essential for our immune system and help the Lungs and Large Intestine to fight illness. Click here for healthy Fall food recipes.
Eat warm, cooked foods: Just as we need to keep our bodies warmer on the outside, we need to do the same on the inside. Raw foods require more energy to transform and drain the body's resources. Step away from the salad and steam, roast, or stir-fry.
Spice it up: Garlic, ginger and onions boost our immune systems, warm us up, and make our lungs happy. Throw pungent herbs and spices into your meals and enjoy.
Stay local: New York City has locally grown farmers markets open every day in all five boroughs. Click here for a list of markets and locations.